Running a website can be hard, but thanks to technology it doesn't have to be overly difficult (neither does life, but that's another article altogether). What's great about WordPress is that there thousands of plugins to make life a bit easier. I've tried at least one hundred of them over the years, both free and paid, and have been able to narrow down a few of my favorites. These are them:
Disclaimer: CoSchedule and UBB links are affiliates.
CoSchedule
CoSchedule is one of the best plugins I've ever come across and it's absolutely worth paying for every month. It includes all of the great features that other calendars have but kicks it up a notch, saving you time and effort. It has an in-house social scheduling system, which allows you to create and schedule posts directly from the calendar itself and automatically imports the title and the link (you can change it, though). It also integrates with Buffer, tracks your social shares, and can show more than one month at a time, allowing for longterm planning and scheduling. You can also color code your posts by type, which is very handy for an at-a-glance overview of the types of posts you're writing. If you're interested in checking it out, you can try it for free for 14-days with the free trial.
Source: CoSchedule
Better Click to Tweet
You may have noticed that most of the posts here on The Book Wheel have embedded tweets that I created. The way that I do this is by using the Better Click to Tweet plugin, which allows you to create your own shareable messages with or without your own Twitter handle attached to it. It's great and handy and, best of all, free! You can get it here.
From @CoSchedule to @NoseGraze, here are 4 #Wordpress plugins you can't live without!
Click To Tweet
Share a draft
There are times when others guest post on The Book Wheel, but the only way for someone to see a post before it is published is to have access to the backend. Unfortunately, I don't want every single person who contributes to the site to have access to these things, which is where Share a draft comes in handy – it allows you to create a shareable link to a post before it is published. You can decide how long the link can be "live" and it allows you to get feedback on post formatting without sharing site settings. Plus, it's free, too!
Ultimate Book Blogger Plugin (UBB)
This amazing plugin from NoseGraze is a must-have for anyone reviewing books on their website. It's its own self-contained system and lets you input all of the book's details, from the page count to the publisher. It also allows you to create an index for each genre or publisher so that readers can browse their favorites. These options are just the tip of the iceberg and if you're interested in learning more about it or purchasing it, head over to NoseGraze.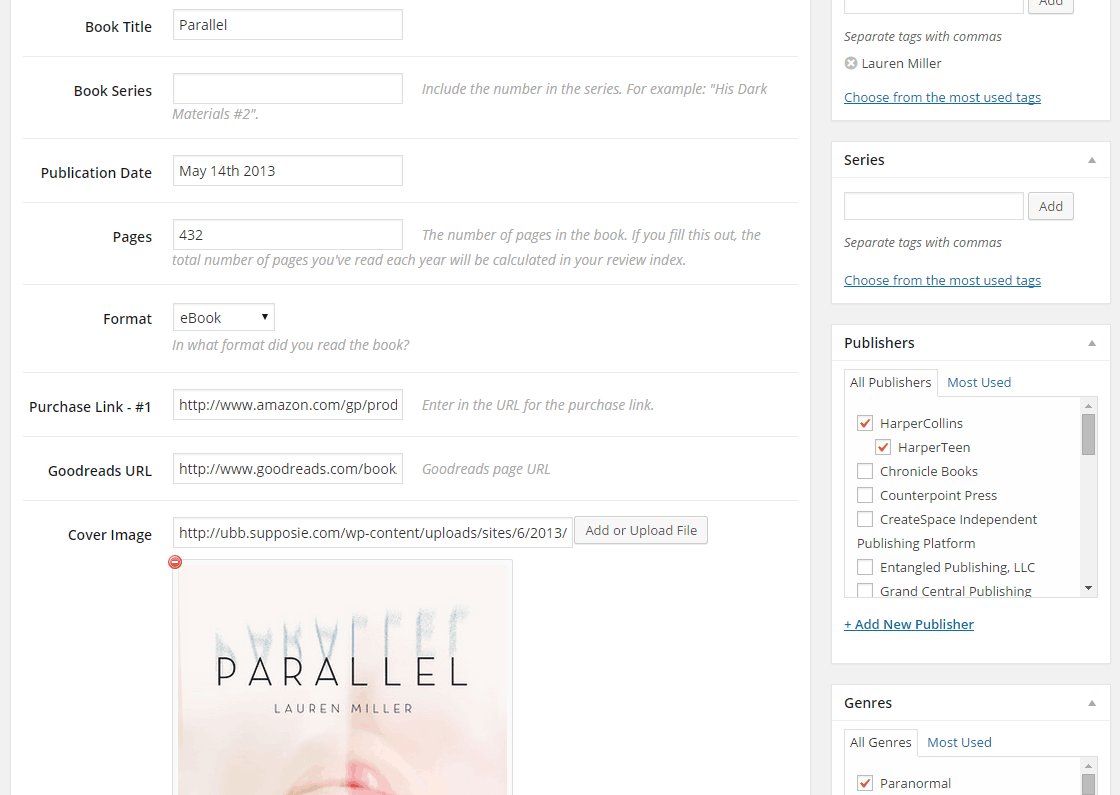 Sexy Author Bio
Some themes come with great author bio boxes, but others are a bit plain. This is why I like Sexy Author Bio, a free plugin that allows you to completely customize the visual aspects of the box. Custom options include colors, fonts, sizes, and even the shape and size of the social icons. It's a great way to match your box to your theme, especially if you've done any custom coding to your site.
What's your favorite plugin and why?