Online collaboration with team members can be difficult, but it can be even harder if you don't have the tools you need to get and stay connected. The following apps for online collaboration are great for small and large businesses alike and will help you increase your productivity while staying in in the loop with your team and tracking its performance.
Increase your team's #productivity with these 6 collaboration apps! #smallbiz
Click To Tweet
Slack is an online messaging platform that makes it easy for teams to communicate in real-time. It's a lot like a chatroom but with a ton of other features. In addition to including a chat function, your conversations can be organized by channels (think hashtags), you can upload and share files, and you can create private groups or chats. It's a web-based application with an iOS app and is great for teams who need quick and frequent communications.
If you're working for a technology company that assigns tasks to a large number of employees, then keep reading. LiquidPlanner is an IT project management system that offers services ranging from scheduling to monitoring the time it takes to a complete a project. Plus, LiquidPlanner manages and analyzes projects to ensure optimal outcomes. A lot of the data is represented visually, which lets users track progress at-a-glance and provides estimated delivery times based on best and worst-case scenarios. It also allows managers to monitor the progress of their employees, so you can keep your finger on the pulse of the company. If you are looking for an app that is more advanced to help you stay on top of multiple projects, LiquidPlanner offers a free 14-day trial.
Examples of who is using LiquidPlanner: LinkedIn, Nintendo, and Cummins
Basecamp is a web-based project management system that is extremely flexible and can meet your company's specific needs. Once you set up a project, you can add text documents, files, assign tasks, and share folders via email and within the program. Group members are able discuss project details right inside of the program, as well as see all upcoming tasks in both a list or calendar format. If you're running a team that needs a simple solution that's easy to use but packs a punch, Basecamp can help.
Examples of who is using Basecamp: (Company names unavailable, but thousands join each week)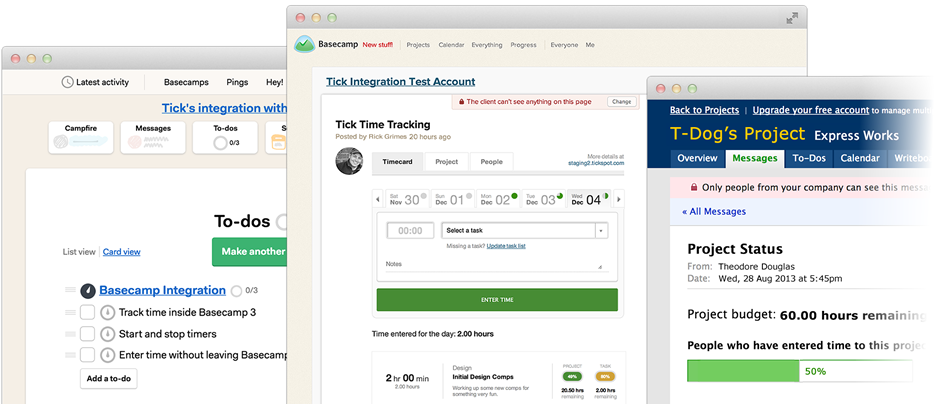 According to its site, Redbooth can save you "5 or more hours every week by being able to track, manage and collaborate" by reducing email clutter. I've been using this one for two weeks and its enhanced task management templates and reporting saves me that much time even without reducing the email clutter (just imagine how much time THAT would save me!). It also offers in-app video conferencing, chat functions, task management, and workflow reporting. Plus, it offers a mobile app, allowing members to stay connected while on the go.
Find out why @RedboothHQ is my top pick for team task management! #productivity
Click To Tweet
Examples of who is using Redbooth: 1st Franklin Financial, Tulane University School of Medicine, and Indiana University
Conceptboard is targeted towards marketers and advertisers, offering team members options such as uploading, editing, and commenting on visual works of art. They advertise the program as being similar to being in the same room as your team, which is exemplified by your ability to see who is online and what project they are working on. This makes real-time communication a breeze and editing graphics immediately.
Examples of who is using Conceptboard: Adobe, GoDaddy, Xing
If your businesses offers a customer service team or a tech support hotline, Trello might be the simple answer to your problems. This drop-and-drag task management system can be used by both businesses and busy individuals and offers upgradable features depending on your needs. All you have to do is create a ticket and drop it into the appropriate, customized column as it progresses through the steps (To-Do, Doing, or Done). You can also add members, upload files, leave comments, or add optional features such as a calendar.
Examples of who is using Trello: Google, Tumblr, Kickstarter, and New York Times
Check them out.
We promise they will help you boost your biz!
What is your go-to collaborating app?