Over the past several years, personal relationships have taken a hit as a result of social media. The days of calling and meeting for a spontaneous lunch are over for many, with relationships being built via emojis and memes. Although I'm a blogger, I still strive to connect with people offline, offering up my phone number instead of my Facebook page and calling people rather than texting. The results of this have been mixed – some people will not answer their phones and text me back, others will answer to tell me to text them, and then there are the few that feel the same way that I do. Don't get me wrong  – the Internet is a great place for chatting with friends and I use it daily – It's my go-to for connecting with other bloggers and catching up, but for the important things I like to take it offline.
Unfortunately, not everyone feels the same way and for the past several years I've been okay with that. I have accepted that the way people communicate has evolved and that not everyone (even those in my age group who are not millennials) wants to step away from finger-tapping relationships. I've celebrated pregnancies via Facebook messenger and talked about grief via text message. It's worked out well and this type of communication certainly has its place in the more casual relationships, but what I've realized is that when it comes to the big moments, it makes me unhappy.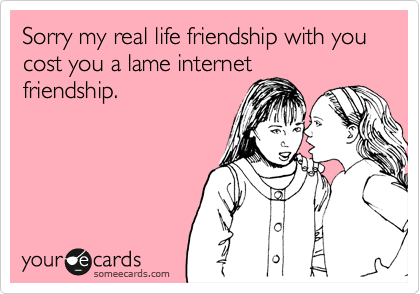 I don't enjoy talking about marriages, kids, and milestone life moments on the Internet (although I do like the videos). Without a "real" conversation, I can't hear the joy as someone expresses excitement about a new life development or gauge how upset someone is and don't always respond appropriately. I'm also very sarcastic, which doesn't always translate well online and requires way too many emojis to compensate, and I hate doing that. With a "real" conversation, I'm much more able to be myself and let my personality shine through, just as I get to know someone else a bit better, and it makes everything much more pleasant.
Do you prefer your friendships online or off? Where do you draw the line?
Click To Tweet
So, this year, I'm spring cleaning my friendships. I'm not callous, so I'm not going to drop the axe on anyone who avoids the phone like the plague because that's inappropriate and I like those people, but I am going to invest more of my time into people with a likeminded approach. I want to have better, more personal relationships with my friends and, for me, this means going offline. I want to hear about new babies and weddings and career changes from my friends and want to share my own successes and concerns in the same way.
I'm sure that some of my friends will balk at this post, both because I love Google chat and because I'm hooked on all things social media, but those who truly know me will not be. These friends know that I love to talk and that the spontaneity of conversation is the best part of communication (something you can't have when you are able to edit your words). My hope is that I will have more of these friends and that my friendship will be richer as a result.
So now I'm asking you:
What's your preferred way to foster and build relationships?
Please discuss!
Bonus recommendation: The Friend Who Got Away: Twenty Women's True Life Tales of Friendships that Blew Up, Burned Out or Faded Away by Jenny Offill
Related Posts