The Magic Strings of Frankie Presto
by
Mitch Albom
Also by this author:
The First Phone Call From Heaven
Published by
HarperCollins
on November 10, 2015
Genres/Lists:
Fiction
Pages:
512
Read synopsis on
Goodreads
I received this book for free from TLC Book Tours.
(this post includes affiliate links)
Mitch Albom has, once again, delivered a story that highlights the interconnectedness of human beings and how one simple act can change lives. The Magic Strings of Frankie Presto is the story of a gifted musician who is abandoned at birth and wanders through life, fame, fortune, and solitude with his guitar with the strings that turn blue for only one reason. From infancy, music was Frankie's savior and served as his constant companion throughout his life, anchoring him to a world that he didn't understand, and if you never truly understand your beginnings, can you ever truly understand yourself?
Narrated by Music, I started out feeling a bit disconnected because I am not musically inclined and I feared that I would have difficulties getting into a reading groove, but it wasn't long before I picked up the rhythm and found myself immersed in the heartbreaking life of Frankie Presto. To say that this book is lyrically written is a cliche, but it is an accurate one, and it is written in the fluid style of a writer who truly understands the power of music. Frankie reminds me a lot of the ocean – his appearance calm but teeming with life underneath, constantly rolling forward and pulling back, and living a life where the slow ups and downs carry him (and the reader) forward (this could also be said for music, but like I said, I'm not musically inclined). I also found myself stopping to take in the impressiveness of some of the passages, needing a moment to catch my breath because Albom can say in one sentence what others can spend a lifetime trying to convey or explain, such as:
"Before newborns open their eyes, we circle them, appearing as brilliant colors, and when they clench their tiny hands for the first time, they are actually grabbing the colors they find the most appealing. Those talents are with them for life. The lucky ones (well, in my opinion, the lucky ones) choose me. Music."
"The secret is not to make your music louder, but to make the world quieter."
"Men search for courage in drink, but it is not courage that he finds, it is fear that he loses. A drunken man may step off a cliff. That does not make him brave, just forgetful."
Death has no ears….. If it did, it could never rob the world of his music."
If love stories are a symphony, then @mitchalbom is clearly their maestro. #FrankiePresto
Click To Tweet
Writing style aside, I was blown away by the musical history contained within the book. I'm tempted to say that The Magic Strings of Frankie Presto is as much a lesson in the greats as it is about Frankie himself. The book is punctuated by memories of Frankie by real-life artists and many of the people Frankie encounters throughout the book are actual famous musicians (I wonder if he had to ask permission to do that?). Regardless, Albom weaves the stories of these real people into Frankie's own and while I started out Googling to see whether certain things really happened, I gave up after the first ten turned out to be true (I also spent a lot of time on YouTube looking up the songs he mentions).
If you've never picked up a Mitch Albom book before, I recommend starting with The Magic Strings of Frankie Presto. It is by far my favorite and you don't need to be a music lover to appreciate it. Life, is after all, a song, with a beginning and end. Or, in the words of Albom himself. If love stories are a symphony, then Albom is clearly their maestro.
"But all love stories are symphonies. And, like symphonies, they have four movements.
Allegro a quick and spirited opening
Adagio a slow turn
Minuet/Scherzo short steps in 3/4 time
Rondo, a repeating theme, interrupted by various passages
Recommended for: Music lovers and those who appreciate a tragic story that will leave you thinking about the interconnectedness of humans and how one act can cascade outwards.
About Mitch Albom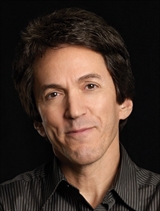 Mitch Albom is a bestselling novelist, a screen-writer, a playwright, and an award-winning journalist. He is the author of six consecutive number-one New York Times bestsellers and has sold more than thirty-four million copies of his books in forty-two languages worldwide. Tuesdays with Morrie, which spent four years atop the New York Times list, is the bestselling memoir of all time.
Albom has founded seven charities, including the first-ever full-time medical clinic for homeless children in America. He also operates an orphanage in Port-au-Prince, Haiti. He lives with his wife, Janine, in suburban Detroit.
Find out more about Mitch at his website, connect with him on Facebook, follow him on Twitter, and sign up for his newsletter.
For the full tour, please visit:
Related Posts